Back to Insights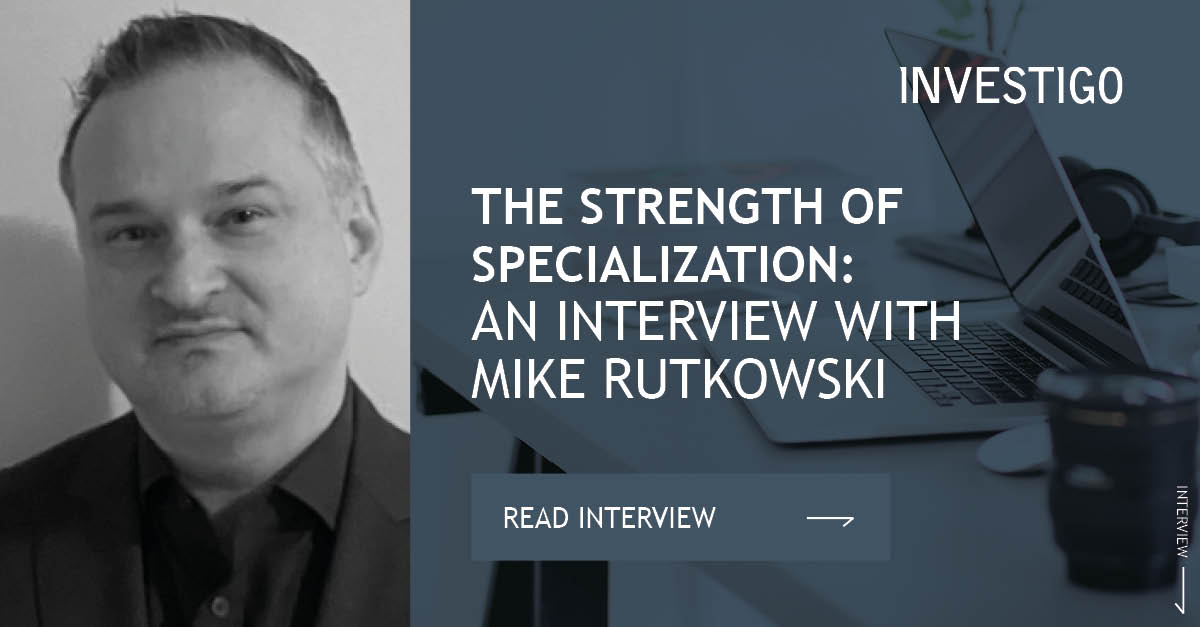 ​The strength of specialization: an interview with Mike Rutkowski
Mike Rutkowski
is the Managing Director of Investigo's US business, based in New York. As he approaches his second anniversary with the company, Mike tells us how our focus on each of our niche markets has helped us become one of the leading specialist recruiters in the United States, talks about the highlights of the last two years and shares some of the business's plans for the future.
What was your remit when you took the role?
It's been almost two years now. I was brought into the business to help scale the business nationally, launch other verticals, geographies and territories, and add other specialisms to the portfolio.
When you started in the role, could you imagine the office would grow so quickly to the size it is now?
Looking back, we certainly had plans to expand and grow, but when COVID hit we continued to grow and we're now sitting here with a much larger business. We've doubled our size since I've been here. The US market is massive and with our excellent reputation, specialism and deep rooted knowledge in our markets, we were really excited to launch the US brand and we're now even more excited to grow across the US in new regions.
What have been the highlights of the journey so far?
Seeing the business grow, the service we provide to our candidates and clients and really pushing forth the Investigo brand and what we are known for. The opportunity for growth is really exciting. It's inspiring seeing our incumbent teams progressing and reaching their goals, and new hires joining. Providing a service where we can align clients to candidates with whom they share values is quite exciting, and this is increasingly important to professionals. There is a growing demand for niche talent across the US. Providing a high level of service that's underpinned by excellence is really exciting and rewarding.
What have been the biggest challenges?
Changing the infrastructure of a growing business, hiring the right talent to be part of the values we hold as an organization and supporting our markets by providing the best talent in an everchanging landscape is really challenging. The market has changed: the need for talent has grown and there's more need than supply. We feel strongly that our focus on niche markets is well suited to support both clients and candidates. Our mission is to be the go-to partner for both permanent and interim talent across the industries we support.
What's your outlook for your markets in the year ahead?
The market has shown that it's quite resilient, and companies are quite confident and comfortable in hiring people remotely now. We do have a strategic roadmap of growth but we're expecting back to back record quarters and tremendous growth in our markets, and the industries we support are everchanging. By being a very niche specialist within med comms, life sciences, tech, cloud, CRM, Salesforce, ERP transformation, creative, digital and strategy consulting, we're really positioning ourselves to meet the shortage of talent in the next few years and our growth potential is limitless. We just have to really action it.
The challenge in the US market is that although it's very talent short, there's also a vacuum of a lot of recruitment businesses that are very generalist, recruiting all types of tech, finance, admin support, but not many niche recruiters who can qualify and find candidates who match their clients' values. Our specialization is our differentiator to a lot of our competitors.
What are the plans for the future?
Our specialisms are secure at this point and the areas we play in continue to grow. As an entrepreneurial business and culture, we're always looking at new markets and if something arises that we think we can grow and scale, we'll look at it.
Within our tech team, we're highly focused on Salesforce, as well as cloud platforms such as AWS, Azure, Oracle, both from an architecture standpoint and a cloud and data migration standpoint. We also support and SAP HANA implementations and other SAAS/CRM products, such as Netsuite and Service Now.
We're in the process of expanding into the medical device market while we continue to grow our specialist practices, launching new locations over the next two years. The opportunities really are endless.
If you're looking for your next role or your next hire then one of our experts can help you, no matter where you are in the US. Contact us now for an informal chat.